Partner with Dreamscape Learn
Experience the future of education
Through Dreamscape Learn, students visit an Intergalactic Wildlife Sanctuary, where they collaborate with an artificial intelligence to discover, investigate and solve novel scientific problems. While flying a mobile laboratory, students encounter extraterrestrial ecosystems containing endangered species from across the galaxy. These life forms range from oddly curious to fiercely dangerous, but all follow scientific principles of life on Earth.
Data collected in the experience about the organisms and environments are automatically exported to the learning management system, where they can be accessed for collaborative application with peers. Once in class, students discuss observations, analyze data, discover patterns and test hypotheses. Each mission in the Intergalactic Wildlife Sanctuary facilitates the development of practical skills, such as building models, producing graphs and calculating statistics.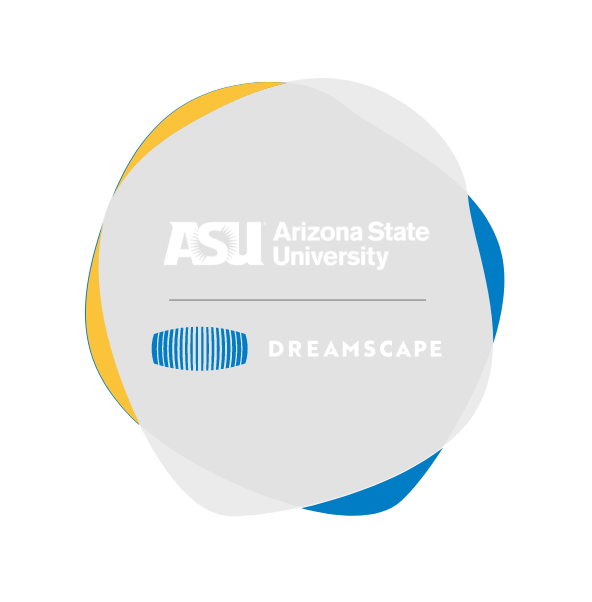 Conducting research to create a tailored learning experience
World-class pedagogy, curriculum design and academic integrity at Arizona State University merge with aesthetic design and the narrative craftsmanship of Dreamscape Immersive's virtual reality to create a new way of learning and engaging with content.
Assessing Dreamscape Learn's success
ASU's research team is evaluating Dreamscape Learn's efficacy under the question: Do students enjoy learning through this unique course experience? Through a design-based research approach, ASU's researchers are embarking on a descriptive and analytical comparative research study to get at the heart of student experiences and learning over a 15-week semester.
Collecting quantitative data
Quantitative data collected during the immersive experience, including data collected through transformative learning content, mixed-methods surveys, unmoderated user recordings, qualitative interviews and focus groups are actively being collected. Exploring that data, alongside educational outcome data records, will provide a holistic approach to understanding Dreamscape Learn as a catalytic learning approach.